"Why should I trust you?"
This is the question potential customers are asking when they look you up on the internet.
Like it or not, people talk. Sometimes they say things which are true, sometimes they make up lies, but either way, negative information about your company is downright lethal.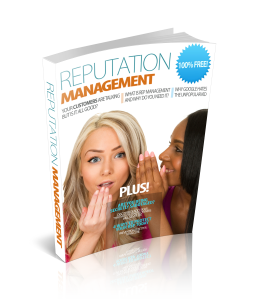 Your business currently falls into one of four categories online:
Bad Reputation – Multiple negative reviews outnumber positive 5-Star reviews. No Reputation – There are no reviews or fewer than 10 positive 5-Star reviews about your business. A recent study by Search Engine Land has proven that 70% of consumers will not trust a business without at least 10 reviews. Good Reputation – A few good reviews but not enough to sway a potential buyer your way. 5-star Reputation – Multiple 5-Star reviews (at least 10). More importantly,a number of positive reviews that significantly outnumber your competitors. This is where you begin to dominate your market and where reputation management becomes reputation marketing. Think new revenue!
A 5-Star Online Reputation is a game changer and enhances all the other marketing you do.
Here's why: The Internet has changed buying behavior. It is so easy now to research or "check out" a company, product or service before you buy. Within seconds of seeing an ad or doing a Google search a potential buyer can find out the good, bad, or ugly about your company or offer. If they find a stellar reputation and droves of satisfied buyers…you win!
That's why reputation marketing is fast becoming one of the most popular services for all kinds of businesses, big and small, national and local. It's a way to protect your online reputation from negative reviews and false claims, ethically and legally, and when done right, it can significantly boost your ROI.
Reputation Marketing involves a wide range of activities to keep your name in good standing and keep customers headed your way.
To learn what people are saying about your business online, utilize our proprietarysoftware application and grab your instantaneous Free Reputation Analysis by clicking here.